Jio is one of the most popular and leading telecom companies with millions of users. In this advanced modern age of seamless technology, everyone wants to connect through reliable and fast data services.
5G network was launched in India in August 2022 in selected cities of India by Jio and it has spread almost all over India so far. Jio's 5G Unlimited Data offers a promising solution but users facing the "Jio 5G Unlimited Data not working" issue.
And it's very frustrating when your Jio 5G Unlimited Data is not working as expected. So here is the troubleshooting guide to help you use unlimited 5G data and enjoy uninterrupted browsing and streaming, etc., requirements to activate Jio 5G, and how to activate it.
Requirements To Activate Jio 5G
To avail of the unlimited Jio 5G, you have to fulfil the below requirements.
A pack of ₹239 or above should be activated on your Jio SIM. This is required to credit the Jio 5G welcome offer and applies to both Prepaid & and Postpaid users.
Your smartphone should be 5G supported to avail of the Jio 5G offer. If you fulfil this condition, you will avail of the Unlimited Jio 5G offer.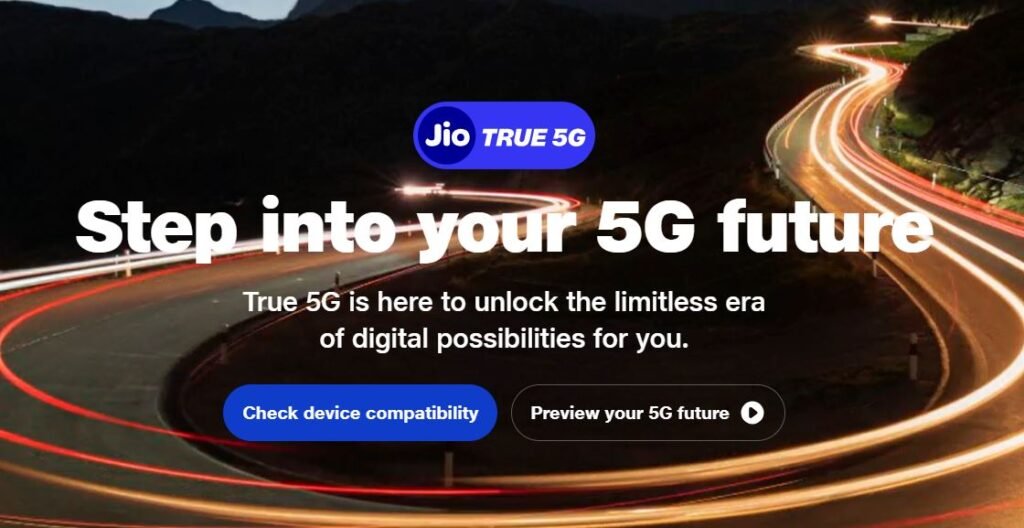 How to Activate Unlimited 5G in Jio?
Once you fulfil the requirements to activate the Jio 5G successfully, you have to follow the steps to activate the Unlimited Jio 5G.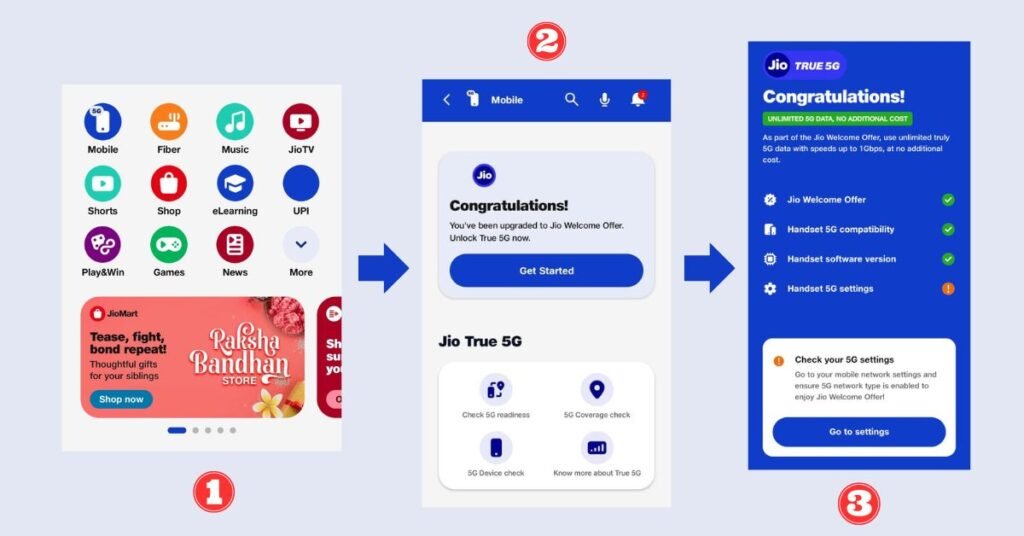 Step 1: Go to your phone's settings.
Step 2: Search the "Mobile Network" on the settings tab
Step 3: Now click on the "Mobile Network" option.
Step 4: Choose "Jio SIM" on which you want to enable the 5G.
Step 5: Then click on the "Preferred Network Type" option.
Step 6: Select the 5G option from here.
By following these steps, the 5G network will be activated on your smartphone and a 5G icon will be displayed on the status bar.
How to Fix if Jio 5G Unlimited is not Working?
Are you disappointed when your Jio 5G Unlimited is not working? Don't worry, here we have the solution to fix this issue. You can follow the steps and resolve the issue.
Note: Your device should be 5G supported.
1. Check Network Strength and Coverage:
First of all, check your signal strength and ensure you are in the Jio 5G network coverage area. Make sure your smartphone is receiving a strong signal. You can also verify your 5G availability in your area by connecting to the customer support service of Jio.
2. Confirm 5G Enabling on Your Smartphone:
Make sure you enable the 5G on your smartphone. To confirm, go to the smartphone's settings and check the selected preferred network type. It should be 5G.
3. Restart Your Smartphone:
You can resolve many connectivity issues by restarting your smartphone. This simple step can resolve the temporary network error.
4. Clear Cache and Cookies:
Go to your smartphone's settings and select the applications and browsers you are using. Then click on clear cache and cookies. This can help you resolve data-related issues.
5. Reset Network:
Resting the network can resolve the connectivity glitches and it will back to its default configuration. Once you confirm the reset, it will delete all the saved Bluetooth and Wi-Fi networks. You have to set them up again after resetting the network setting.
6. Enable and Disable the Airplane Mode:
You can reconnect to your device's network by turning off and on airplane mode. This option can resolve temporary errors and restore data connectivity.
7. Update Device Software:
Ensure that your device software is up to date. Sometimes, outdated software can cause connectivity issues with the network. Check and update your device's software often so that connectivity issues cannot occur. Updated software enhances the overall performance of your smartphone.
8. Network Congestion:
Sometimes heavy network traffic may result in non-existent and slow data speed. This is due to peak usage hours. It will affect your overall experience.
9. Contact Jio Customer Support:
You can reach out to Jio's customer support service if any of the above-mentioned steps don't give you positive results. The support team will guide you in troubleshooting the issue but make sure you provide accurate details about your smartphone and location and also the steps you have performed.
Conclusion:
This is all about the Jio 5G Unlimited Data connection. By following the mentioned steps, you can activate your Jio 5G Unlimited and fix if Jio 5G is not working.
Please feel free to get in touch with us if you have any questions or to leave a comment below with your thoughts.
FAQs
Q.1: Does Jio 5G cost extra?
You don't need to buy an additional data pack if you have Rs 239 prepaid plan or above.
Q.2: Is Jio 5G free for a lifetime?
Jio 5G welcome offer is free for Jio users until the 5G network coverage in your area is fully complete to provide the best network coverage and user experience to each user.
Q.3: How fast is Jio 5G unlimited?
Jio 5G Unlimited provides download speeds up to 1 Gbps, which is faster than previous 4G generation networks.
Q.4: Who is eligible for Jio 5G?
The user with a 5G Smartphone and have a valid active prepaid or postpaid plan of ₹239 or above. Also located in cities or areas where Jio True 5G services and network coverage are available.