It is understood why you are searching for the best timetable app for Android. Undeniably phones have become our pocket essential. So when it comes to tracking and scheduling our day to day tasks, on whom can we rely other than our android. So, a list of the best timetable apps along with their features is mentioned in the following article.
Not only do students need a timetable, anyone who wants to bring the best output of their day without wasting their time indeed needs a timetable. And because more than paper, our smartphones are more in use, so here are the best among all other timetable apps.
Below are the Best TimeTable Apps for students
1. Class Timetable
It offers you
Weekly schedule of classes
A small description box for each class
Colour customisation for a separate class
Task view
Class Timetable is the best timetable app for Android if you are a student who likes to keep things simple.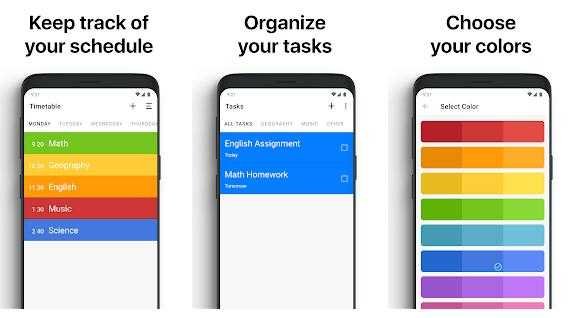 You won't have several customising options, but a simple description box (in which you can mention tasks related to your classes), colour customisation and a task view.
Colour customisation is the feature to remind yourself of classes with their colours.
A task view to view the tasks related to a particular class. Such as exams, assignments, or other tasks. Task-related to the same class will automatically come under the same section.
Class Timetable has a pro version also.
Features of Pro version:
A little widget in which you will get 'tomorrow' and 'tasks' views.
You can export your timetable
You can get notifications for each class
You can add reminders for the tasks to be done for a particular class
No disturbance of ads
Even if you don't want to pay for the pro version, the free version also has enough features for proper scheduling.
Click here to download the free version of the app Class Timetable
2. My Study Life
It offers you
A dashboard for overdue and upcoming assignments
A calendar view for dates of upcoming exams and subjects
Exam view for upcoming exams
Schedule creation with subject name, teacher name and even room number
Automatic back-up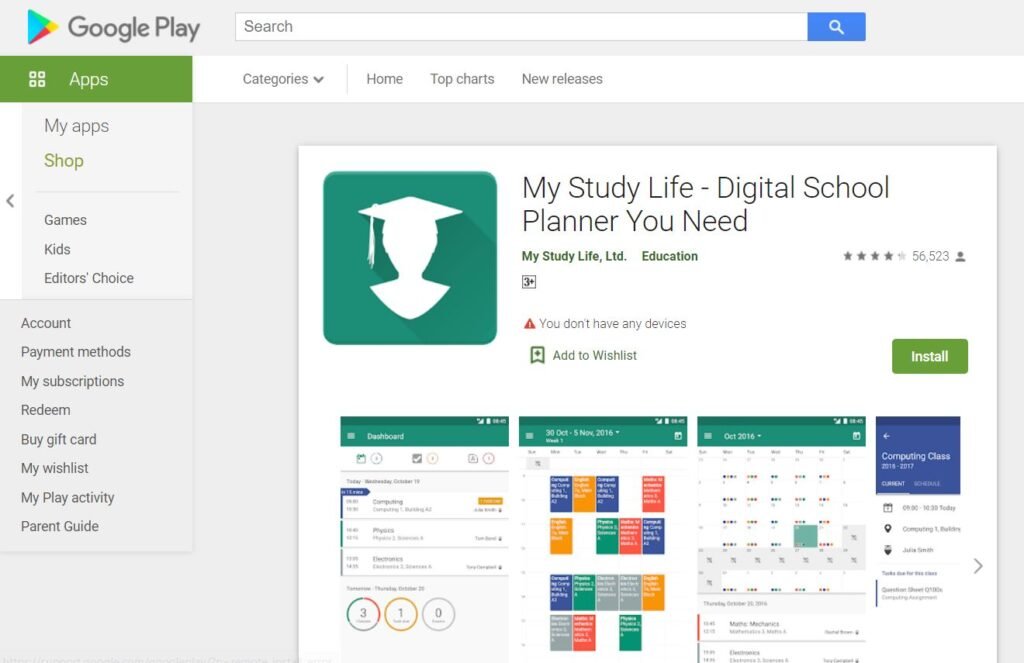 My Study Life is the timetable app for those students who plan every tiny detail beforehand. In this timetable, you can add subjects, dates, and assignments and hence create a schedule for everything important. One of the best timetable apps for Android.
The dashboard feature will give an overview of overdue assignments
A calendar view is to see the important dates related to upcoming tasks
Exam view, as the name suggests, it is for the upcoming exams. The schedule is what you will create while adding the subject, teacher name and room number to your timetable. Because there are automatic backups you won't have to worry about losing your schedule anyway.
And last but not least is no disturbance of any ads and in-app purchases. So enjoy the schedule without interruptions.
Click here to Download free My Study Life
3. My Classes
It offers you
A dashboard for upcoming tasks and classes
A scope of weekly, bi-weekly and monthly schedule
Customisation of tasks
Calendar view
My Classes timetable app has the most features for students. This is the most useful tool for creating longer timetables. Subjects and their assigned teachers can be added to the schedule and further, there is a scope of adding these subjects in a weekly, bi-weekly or monthly schedule.
The dashboard feature displays your upcoming tasks and assignments so that you can prepare before the deadline.
Task customisation has elaborative features, which include a to-do list, subject and their description, do's and don't related to the subject, and chapter addition, you can divide the bigger projects into sub-tasks.
As the saying goes every advantage comes with a disadvantage, so is the case with the My Classes app although this app has abundant features along with a huge number of ads. Only the Pro version has access without ads experience. Also, the free version has a limit of up to two timetables to add and manage at once.
Features of Pro version
Unlimited timetable access
Widgets
Ads-free
Click here to Download free My Classes
4. Timetable
An all-rounder for students
It offers you
Tasks, exams and holiday schedule
Weekly view of classes
Customisation of features
Reminder as well as automate option
An App with a simple name yet a very vast level of features. In this app, you can schedule your tasks including classes, exams, holidays and altogether a weekly schedule. In addition, there is an exciting feature where you can view your weekly schedule for classes. Like other timetable apps on this list, you can add tasks and exams which will appear in a separate tasks section. You can make use of reminders and add additional notes to your tasks as well.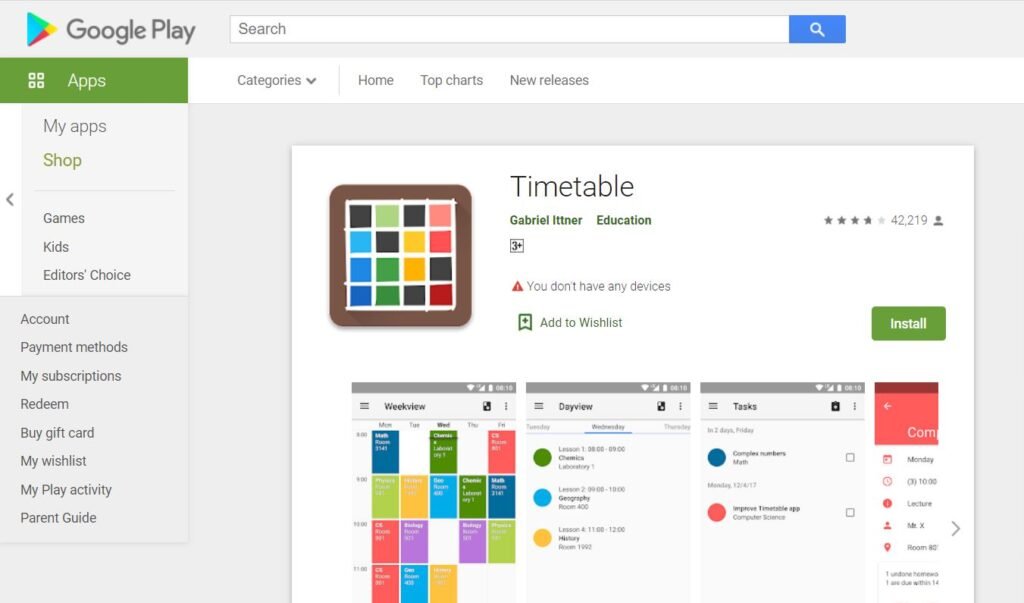 This app also offers customisation of features in which you can choose a dark or light theme, set a default view (for whenever you open the app), and even change the transparency of widgets
This timetable app notifies you of the upcoming class and also gets automated if you are in a class. All of these features including an ad-free experience come in its free version. The only downside of the app is, that there is no backup feature, so if despite this fact it works for you then go for it. No wonder why this app is making into the list of best Time Table Apps for android.
Click here to download the free Timetable
Best Time Table Apps for Whole day plan
1. TimeBloc
It offers you
A timeline view for tasks of the day
Routines feature
TimeBloc is a simple and easy to use app for making timetables. If you are a person who doesn't like to handle complicated digital tasks then this is for you.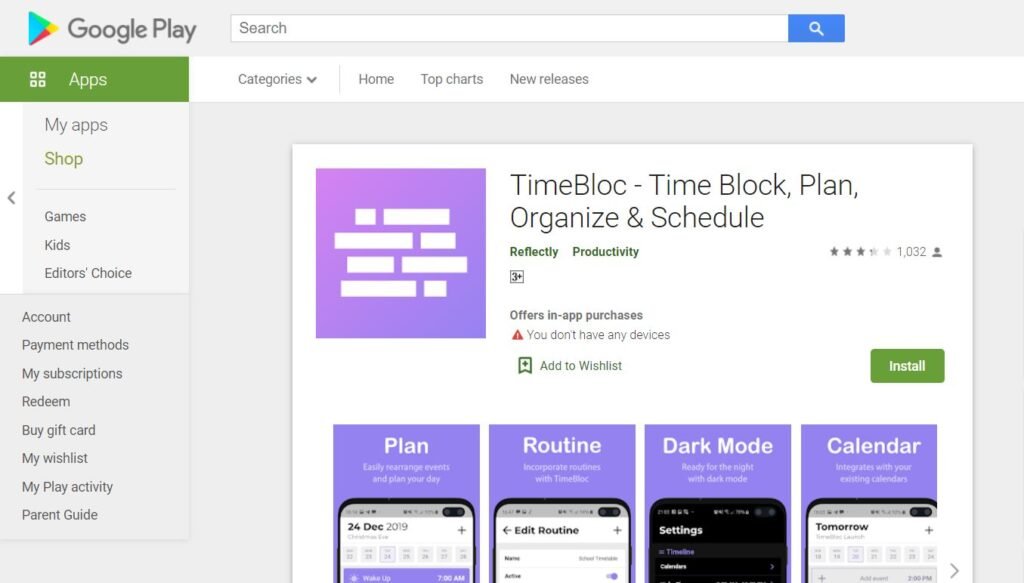 There is a timeline view feature to see the tasks of the day you have scheduled. There is also scope customisation here, you can add tags and icons along with tasks for quick reminders.
The routine feature of the app is to help to add the same routine on other days (if it involves some kind of task). This way you can manage more than one timetable, without having to delete and then again create your timetable.
Pro version includes
Unlimited Routines access
Statistics of the tasks
This simply designed app still feels static for an unknown reason, if that is not problematic, go for it.
Click here to download free TimeBloc
2. TimeTune
Best Time Table apps for Android
It offers you
Scheduling with a time block format
TimeTune templates
Colour customisation
Manual backups
TimeTune has a complex structure of features, but its usefulness is a must-try. For those who are experts at digital planings, this app will work for you.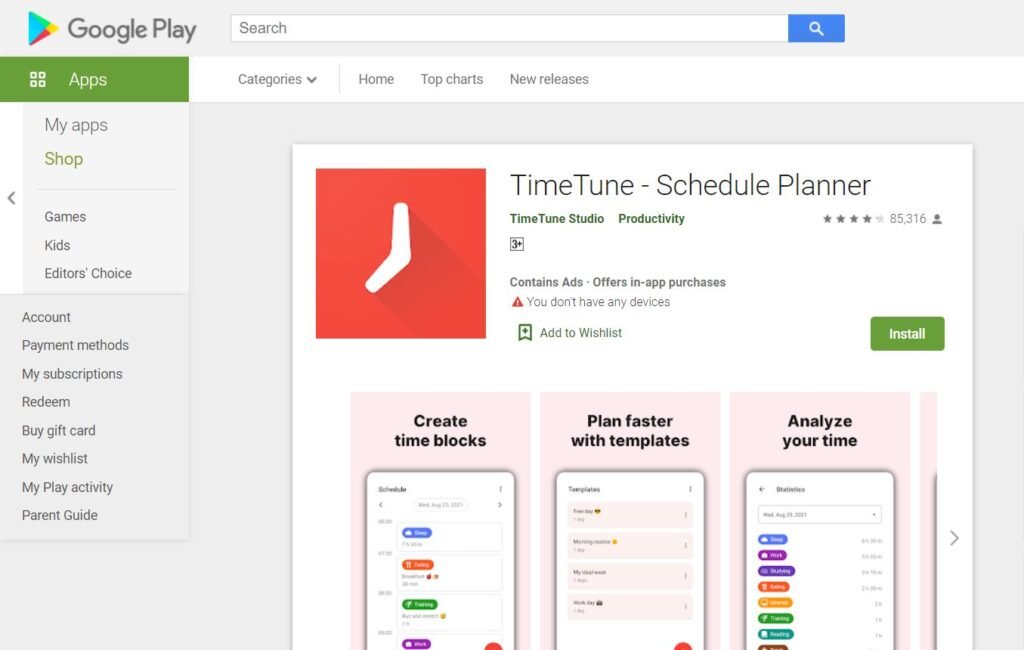 This app has a template feature in which you have to outline your day with tags, and then use the template to schedule your day week or month. This template you can use for scheduling your classes or in general your day to day tasks.
The template feature is an easy way to add repeating patterns in the schedule and then manually add what is different.
The Colour customisation of the TimeTune app has a wide scope of colours and icons. Which can be used to create tags for quick reminders. There is a feature manual back in its free version. Whereas there are more features in its premium version.
Premium version offers
More theme options
Removes ads
Allows time tracking
Automatic backup feature
Click here to download the free TimeTune
All of the apps have some other features that's why they made into the list of best timetable apps for Android. Before you pick one, keep your habits and priorities in mind. Hopefully, these timetable apps will help you bring the most out of your day.