Marriage is the very pure bond between two people and marriage decisions are very important. In Indian culture, Parents have the responsibility to find a perfect partner for their children with the help of relatives, neighbours, friends etc. With time things get changed, Nowadays people want to know the person to whom they are going to marry for a better understanding before committing.
Are you still a bachelor in India and searching for a suitable life partner? In this article, you will get to know the best matrimonial sites in India. Choose the most suitable match with trusted matrimonial sites and services that ensure he or she is compatible with you and your family.
The list of best 12 matrimonial sites in India 2023
Matrimonial sites are safe they keep your information completely secure. Matrimonial sites ensure your safety by bringing you only verified and relevant profiles.
You can contact the person you are interested in by phone, email and live chat with the paid subscription. In matrimonial sites, you have the option to share your location details with whom you want to share.
1. Shaadi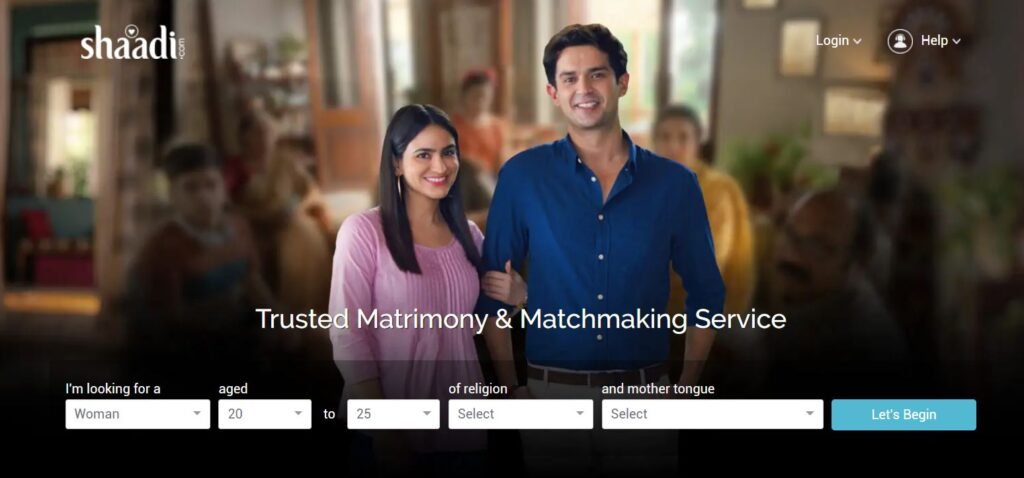 Anupam Mittal founded Shaddi.com in 1996 with the tagline "We bring people together, love unites them". This site helps users to find their soulmates online.
This is one of the well-known matrimonial sites in India. Shaddi.com helps people to find their perfect partners worldwide and this is the oldest & successful matrimonial site in the world.
Reviews: 4.2/5.0
Website: www.shaadi.com
2. jeevansathi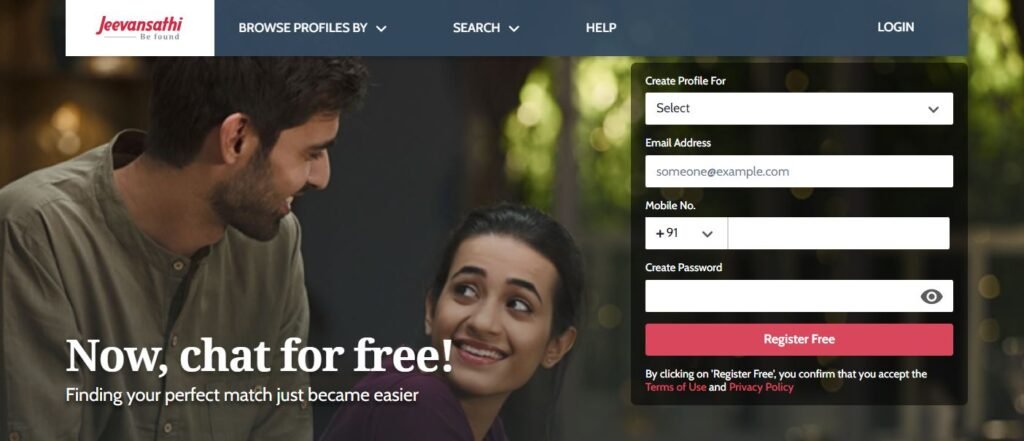 Jeevansathi.com is one of the popular Indian matrimony sites launched in 1998.
It makes happy marriages and perfect matches. It ensures 100% safety of the user's information.
Jeevansathi.com has been in Indian matchmaking service for more than 24 years by providing the safe and convenient experience of connecting people for marriage.
Reviews: 4.3/5.0
Website: www.jeevansathi.com
3. Bharat Matrimony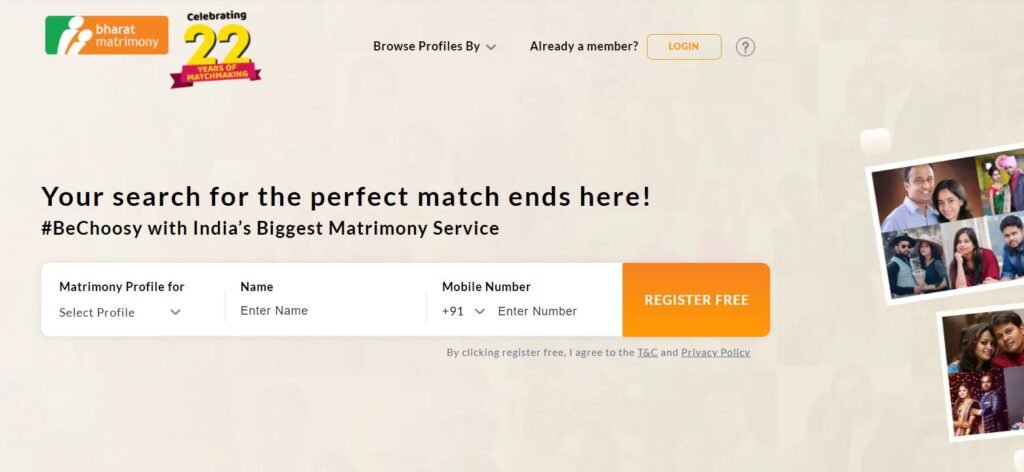 Bharat Matrimony is one of the leading matrimonial websites in India and is launched in 1997. It helps millions of Indians to find their perfect match and has over 1 crore registered members.
Bharat Matrimony is awarded as the most trustworthy online matrimony services provider by the brand trust report (2014 & 2015). It is also listed by the Limca Book of Records as the most documented marriage online.
Reviews: 4.1/5.0
Website: www.bharatmatrimony.com
4. Vivaah
Vivaah.com is a 100% free Indian matrimonial site that helps users find partners and also wedding service providers. It is launched in 2002 and works on the philosophy that " Search for the matrimony partner should not come with a price tag".
You can spend hours finding your perfect life partner in an economical way.
Website: www.vivaah.com
5. Matrimonials India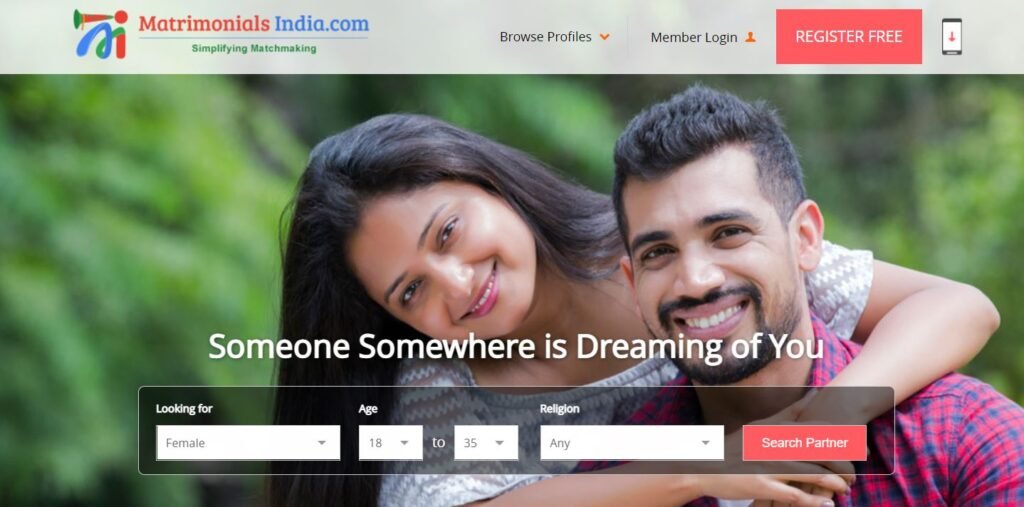 Matrimonials India is India's biggest matrimonial site launched in 1997. You can find your better half easily based on occupation, city, state, NRI etc. This site has a huge database of lakhs of profiles of foreign, Indian and NRI brides and grooms.
Website: www.matrimonialsindia.com
6. m4marry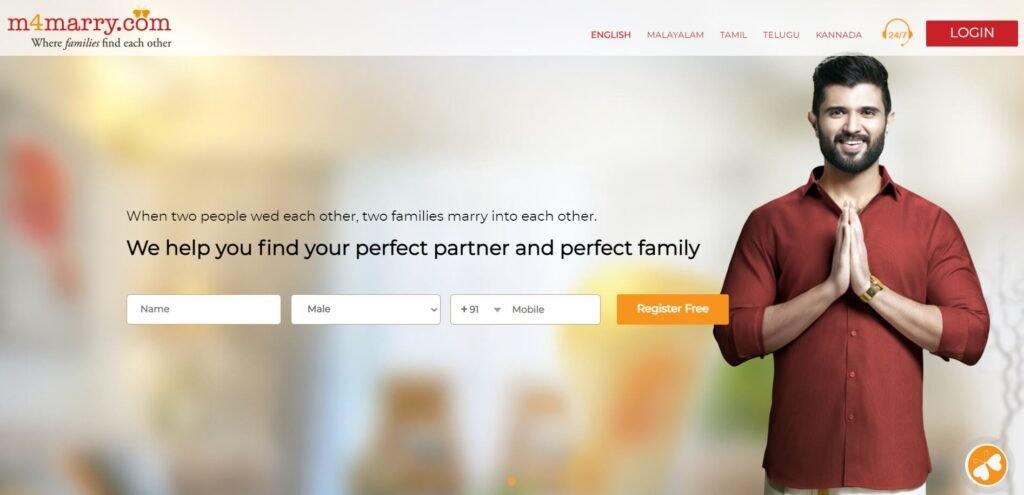 M4marry helps people to find the right partner and family as they believe that marriage is not only about two individuals but their families also. It makes finding your life partner hassle-free and convenient!
Reviews: 4.0/5.0
Website: www.m4marry.com
7. Divorcee Matrimony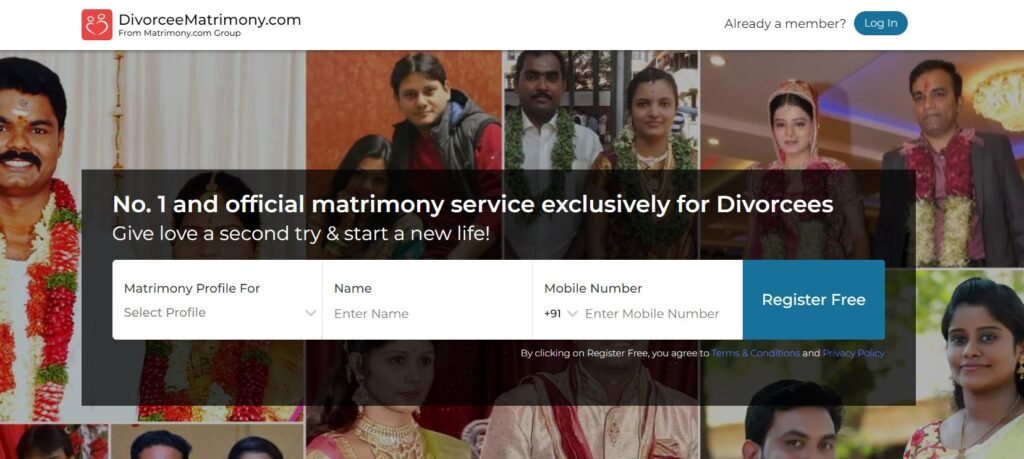 Divorcee matrimony works for widowed or divorced people and helps them in making a new matrimonial start with remarriage services. It provides 24/7 support and easier matchmaking services. Thousands of Divorcee brides and grooms from all over the world have successfully found their life partner on DivorceeMatrimony and remarried. It has thousands of profiles of different communities from India and abroad
Website: www.divorceematrimony.com
8. Chavara Matrimony
Chavara Matrimony is managed by Catholic Priests and Offers dedicated matrimony services for Christians. Chavaramatrimony.com is the most reputed and reliable online Christian matrimonial platform which is trusted by Christian communities all over the world. This is the best match finder with 2 lakh+ testimonials and it has 25 years of expertise in online matchmaking services.
Website: www.chavaramatrimony.com
9. Community Matrimony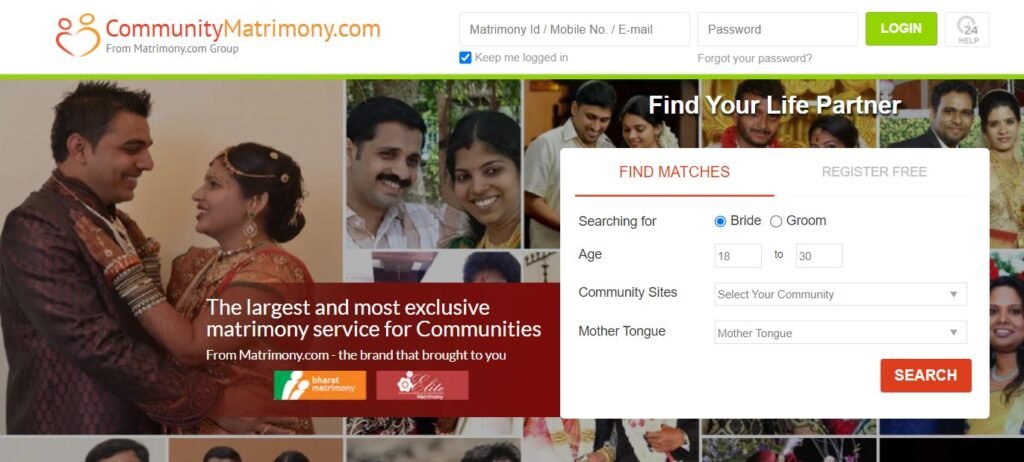 Community Matrimony is India's largest matrimonial service for communities with 140+ matrimony branches across the country. You can find your soulmate through its quick and effective search and the community matrimony is recognised for its 300+ portals for various communities across the world
Website: www.communitymatrimony.com
10. Bandhan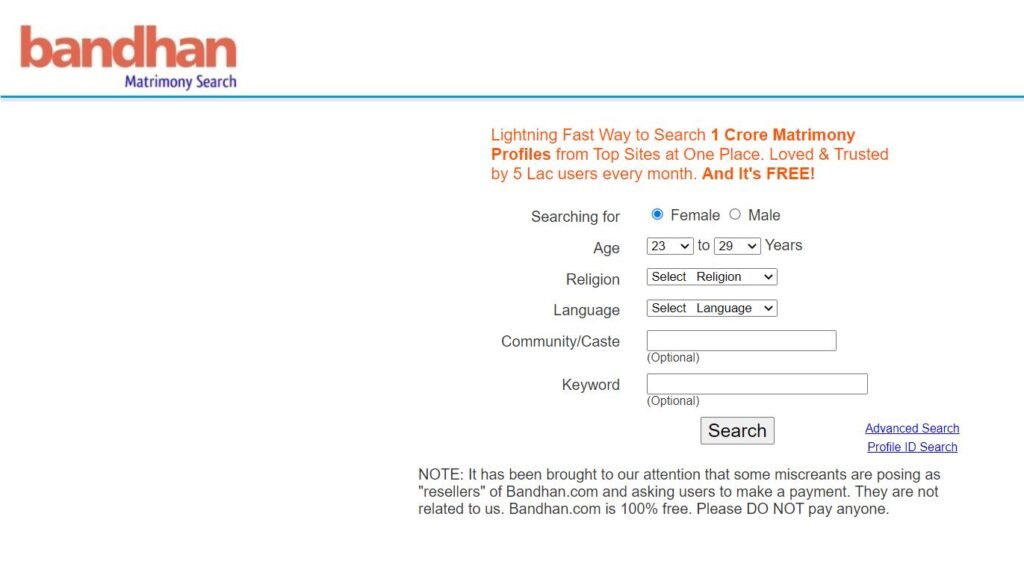 Bandhan.com is a matrimonial site which 100% free. It provides a fast way to search over 1 crore matrimony profiles from top sites in one place. Every month around 5 lac users will get connected to Bandhan.
Website: www.bandhan.com
11. Kalyan Matrimony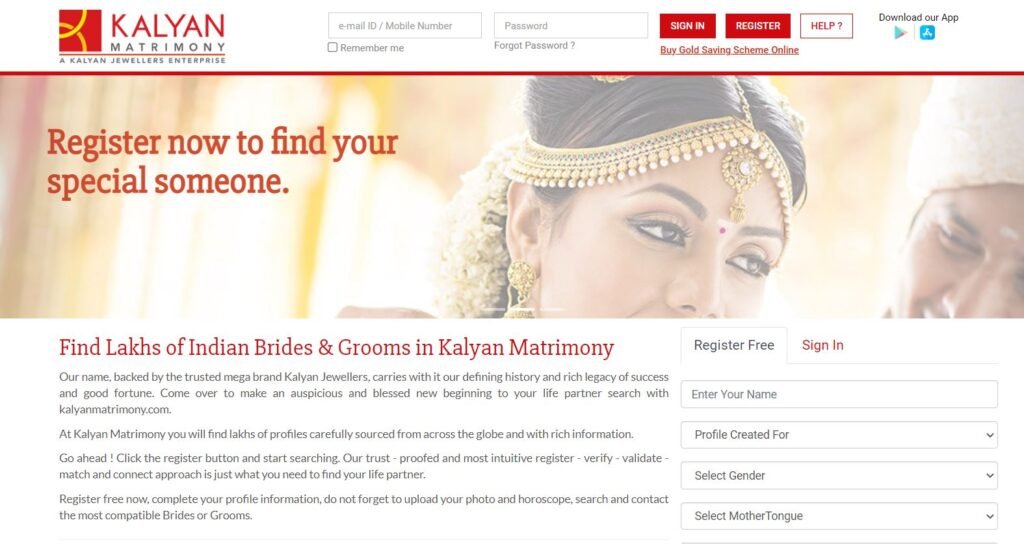 This matrimony website was launched by Kalyan Jewellers in the Year 2016. Kalyan Matrimony brings the best matches and provides the most confidential service. You can find Lakhs of Indian Brides & Grooms in Kalyan Matrimony. All the details are secure and confidential.
Website: www.kalyanmatrimony.com
12. Sangam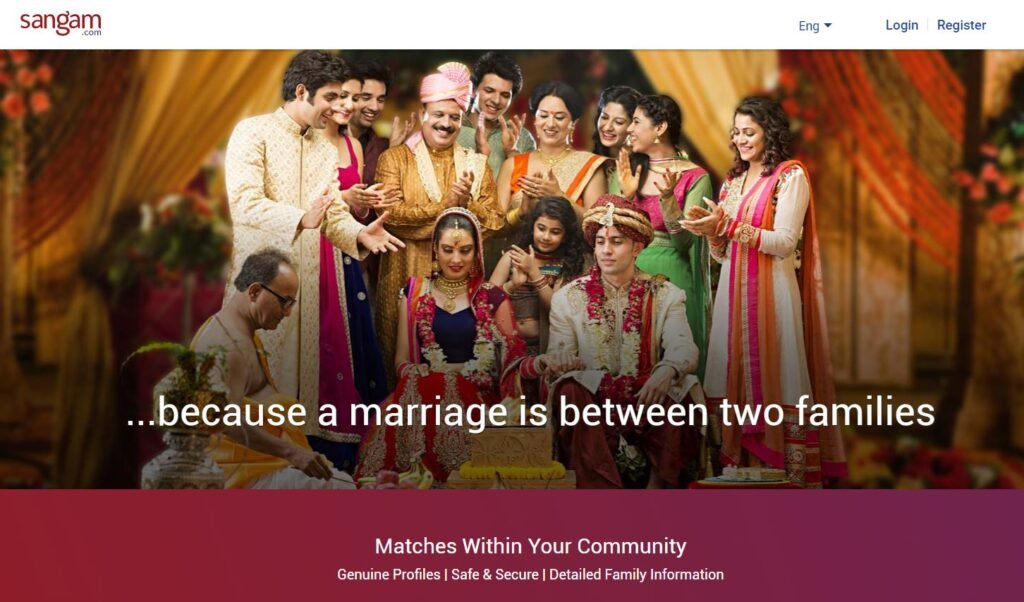 Sangam Matrimony site is a part of Shaadi.com and has connected over 50,000 couples. Sangam.com focus on providing detailed information about family and background that help to take the next step with confidence.
Sangam is the world's no 1 matchmaking service provider site created for parents who are looking and searching for a life partner for their children and loved ones. Over 80+ communities you can find a perfect match from your community.
Website: www.sangam.com
FAQs
Q.1: Are matrimony sites trustworthy in India?
Yes, there are many trustworthy matrimony sites in India. And also, there may be fraudulent sites. But the whole responsibility is us we have to be alert among fraudulent services. We have to choose the site that ensures the safety and security of our information.
Q.2: Do you think Matrimonial sites are safe?
Yes, many matrimony sites are safe to use they provide 100% safety of the user information. And some matrimonial sites do not provide security for information. Beware of fraudulent.
Q.3: What are the Reasons to Use Indian Matrimonial Sites?
Matrimonial sites provide grooms and brides an excellent matchmaking involvement circumstances and resources to meet their true potential partners. By registering on matrimonial sites you can get tons of bride/groom options. These sites contain profiles of various men and women who are looking for a life partner.