Are you getting confused while using Snapchat and its features? In this article, you will get to know about Snapchat and its amazing features. You can communicate with your friends in a unique ways by using its amazing filters and features.
Snapchat is one of the most popular multimedia messaging applications which is used globally and was invented by Evan Spiegel, Bobby Murphy, and Reggie Brown while they were students at Stanford University. Due to its amazing filters, Snapchat attracts millions of users every day.
You can send snaps to your friends and groups by using the cartoon face lens. This app allows users to send pictures and videos that disappear after being viewed. Snapchat offers a range of many reality filters, games, lenses etc.
Steps to send a Snap using the Cartoon Face Lens on Snapchat
Are you excited to learn how to take funny cartoon selfies using a Cartoon face lens? We will give you step by step guide to sending a snap using the cartoon face lens on Snapchat.
Step 1: Download the latest version of the Snapchat application on your mobile devices.
Step 2: Open the Snapchat app and navigate your camera to your face.
Step 3: Now tap on the smiling face icon right side of your camera and Swipe right or left to browse the available lenses.
Step 4: Tap on the lens with the cartoon face you want to use. Click on the Explore option in the lower right corner of the screen for plenty of lens options.
Step 5: Apply the lens on your face and hold until the lens animates.
Step 6: Now take a snap by clicking on the camera button and for a video snap hold it down.
Step 7: Click the blue arrow to send a snap to your friends and groups. And add the snap to your story by clicking on the post option.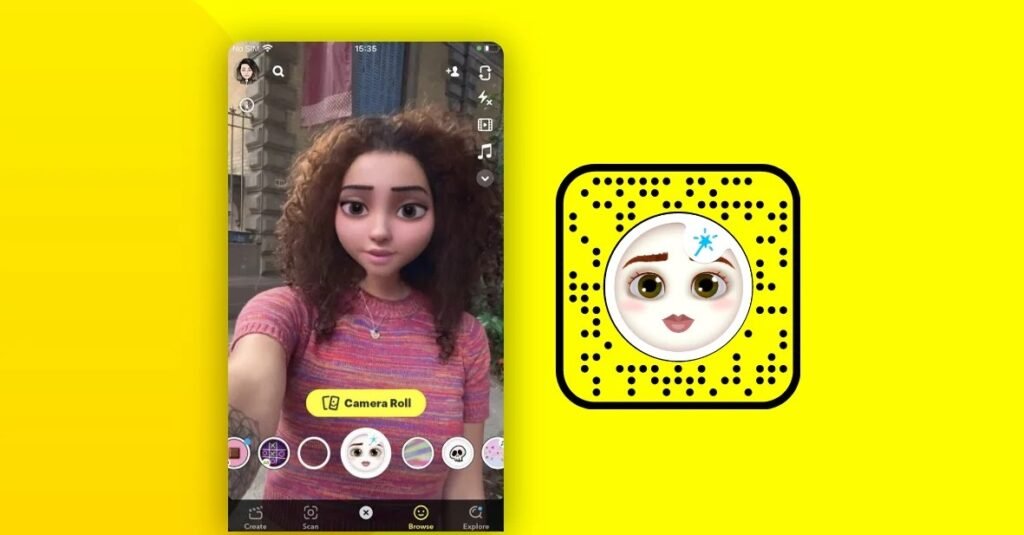 Popular cartoon Face Lenses On Snapchat 2023
Snapchat Cartoon filters are very popular. I am suggesting the popular Cartoon lenses. You can click your selfies and share them with your friends.
Here is the list of popular Snapchat Cartoon face lenses:
Cartoon Kid Lens
Koala Lens
Old age Lens
Baby Face Lens
Anime Face Lens
gender-swap lens
Dog Lens
Halloween Witch Lens
Pink Pig Lens
GOKU Lens
Naruto Uzumaki Lens
Patrick Love Lens
Blompi Bear Lens
Animation Style Lens
Spongebo Love Lens
Dora Lens
Cool Satoru Lens
Spiderman Costume Lens
Stitch Lens
Snapchat's cartoon Face Lenses are popular for many reasons such as:
Playful and Fun: Snapchat filters offer a funny and playful way to present your appearance. People enjoy using them to express their creativity through snaps.
Shareable: Snapchat filters are shareable and snaps can be easily shared with friends and followers on Snapchat and other social media platforms.
Conclusion
Snapchat's Cartoon Face Lens and other interactive features allow users to express and show their creativity and share their snaps with friends and followers.
Snapchat has 1B+ Downloads on the Google Play Store and 30 Million reviews with a 4.1-star rating.
FAQs
Q.1: Is Snapchat a safe app?
Snapchat is safe to use, but it's very important to protect your personal information. Be careful while adding someone, sharing posts, and using privacy settings. Don't open the links sent by unknown senders and use the Snapchat application responsibly.
Q.2: Can other people see Snapchat photos?
By default, the snaps and Stories are visible to friends. You can make your snap visible to the Public or only selected friends by using the privacy settings. Public snaps can be viewed by anyone who has the link.
Q.3: What is special about Snapchat?
Snapchat is a unique application which offers a funny and innovative way to share pictures and videos with friends. Snapchat is popular for its "Snaps" which disappear after being viewed and its filters & lenses which allows user to add special effects to photos & videos.
Q.4: Why do adults like Snapchat?
Adults like Snapchat for its features, like filters & lenses, and its short-lived nature. It allows users to share their everyday moments with friends which can disappear after being viewed.