Earphones nowadays are the most used electric machines after mobile phones. These are used by millions of people across the globe. Earphones are such a necessity after buying a mobile phone.
So, in this, you will get to know about the best earphone under 600 rs. There are many types of earphones in this range like TWS (Truly Wireless), over-the-ear, and neck bands and there are also specialised earphones for gaming, headphone music and other professional sound and music industry.
The best earphones under 600 Rs are:
PTron Boom Ultima V2 dual driver
Realme buds classic wired earphones
Realme buds 2 neo wired earphones
Boat bass heads 105 wired earphones
Zebronics zed-buds wired earphones
Xiaomi mi wired earphones
Infinity JBL Zip 100 wired earphones
JBL C100SI wired earphones
Samsung EHS64
Philips Bass+ SHE4305
1. PTron Boom Ultima V2 Dual Driver:
It is a gaming earphone with a mic.
Has a 1.2 M tangle-free cable.
It has an in-built passive noise cancelling with a 3 to 3.5mm audio jack.
Designed in such a way that they are sweatproof, reduce tangles of cables, convenient to use.
It has a remote control which allows you to attend and cut calls, play, pause and next music, it also activates the assistants on your device.
1-year warranty from the date of purchase.
2. Realme buds classic wired earphones:
The material of this cable is durable. It has a large cable that ensures high-fidelity music. Its length is 14.2mm.
No discomfortable for the user using earphones as they are designed halfway goes in the ear.
Having an HD microphone for crystal clear calling.
It is sweatproof.
Bass is that much that you can enjoy the divine power of music.
It has an in-built feature to pick up calls and has easy control of the music.
3. Realme Buds 2 Neo Wired Earphones:
It has a large 11.2mm Bass boost driver which is made of a multi-layer composite diaphragm.
It has a long cable of 1.3m designed with highly durable sweatproof material.
Having an in-built single remote allows easy control for calls and music.
HD microphone for crystal clear calls.
It is IPX5 water-resistant.
4. Boat bass heads 105 wired earphones:
It gives us pure audio via its 13mm drivers that groove your style.
It has enhanced bass.
Has an in-built function of attending calls, activating voice assistant, and has full control of playing, pausing and next music with button controls.
It has 6 month warranty from the date of purchase.
It has a jack size of 3.5mm, rated power of – 3mW
5. Zebronics zed-buds wired earphones:
It has 14mm drivers designed to deliver audio suitable for all users these are compatible with smartphones, tablets, laptops, etc.
In-line microphones which are supporting the calling function and have a single button click which provides us with clear audio.
Have the advantage of a 1.2 m long and durable cable that can be connected to laptops and tablets.
Having a warranty description of 6 months and it is of free size.
It has a Silver plated audio jack.
6. Xiaomi mi wired earphones
It is made in such a good manner that it will perfectly mingle in your ear canal and will provide you with long-lasting comfort for everyday use.
It has a 1.25 m long cable and an L-shaped 3.5 mm jack to connect with any device.
These are compatible with android, IOS & windows devices.
Having a high-quality silicone earbud.
It has powerful 10mm drivers & aluminium sound chamber for super bass and crystal-clear sound for the best music and calling experience.
Speaker impedance: 32 Ω; rated power: 5mW
7. Infinity JBL Zip 100 wired earphones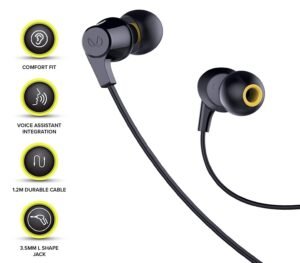 Has a deep Bass sound
Has a comfortable fit of design for using it every day.
Hands-free calling with one button.
In-built voice assistant integration.
3.5mm Gold plated angled connector.
Has a warranty of 1 year.
8. JBL C100SI wired earphones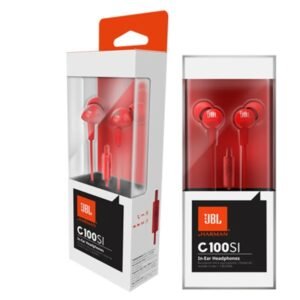 It has 3 size of ear tips (S, M, L). it will allow you to choose a size that gives you the most comfortable listening experience.
Extra deep bass with 3.5 mm jack, clean and dust free.
Have a frequency range: 20kHz.
Noise cancelling Microphone.
One-button universal remote.
Quick launch access to google assistant / Siri comfortable with the devices.
9. Samsung EHS64
These have the best sound quality.
It has a 10mm audio drivers.
It has inline control for answers the calls and playing /pausing music.
It is IPX4 water- resistant.
Has the deep bass.
It has the warranty of 6 months.
10. Philips Bass+ SHE4305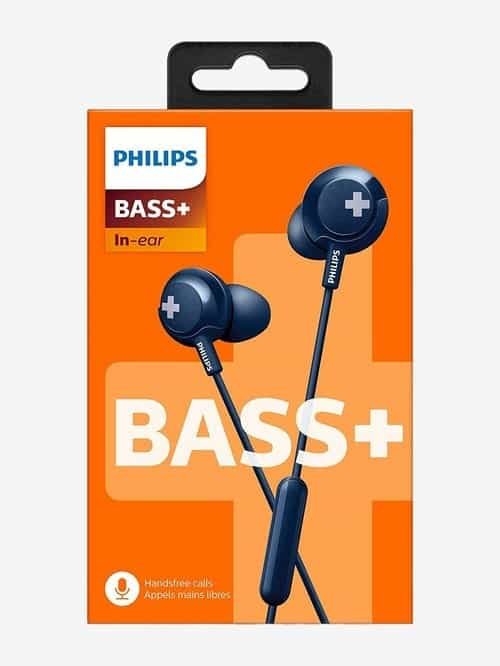 It has 12 mm, audio drivers.
It has a tangle-free design.
It has an inline control for playing/pausing music and answering calls.
The design of this earphone is very slim and lightweight and comfortable.
It is having good sound quality.
It is having a 6-month of warranty.